Bubble Head -blue
Size: 25x32x20cm
2018
Miss Spell
Size: 25x30x20cm
2018
Miss Judge
Size: 25x30x20cm
2018
Miss Behave
Size: 25x50x20cm
2018
Freudian slip
Size: 180x90x44 cm.
An installation of a silk slip covered with an imprinted masculine erotic close up, hanging in a vintage wardrobe. An artwork playing with an expression "Freudian slip" explaining en error in speech that Freud believed came from an unconscious mind and repressed desires. A slip naturally having second more casual meaning-a part of woman's underwear.
Decomposition for piano
vegetables, baby grand piano, artificial hands
2007
Perfect lover
video 4:44 and a limited edition of 100 "Perfect Lovers" vibrators declaring love
Are you attractive, educated and independent? Do you dream of a perfect partner? Do you feel you do everything possible to find true love, but you are still single? Have you had enough of constant failures and disappointments? If that's the case, "Perfect Lover" is an ideal product for you!
In times when sex is at the reach of a hand, it becomes worthless, and love becomes the luxury in demand. How can you have it, at any time, for an affordable price? You will find out by checking this new product. Every piece is accompanied by a video, a commercial in a tv-shop style, that solves a problem of contemporary woman who lives in a world of substitutes and suffers from chronic loneliness, while waiting for "Mr. Perfect".
Perfect Lover is an embodiment of, but also a reflection on sex and its physical, emotional, social and spiritual aspects.
Powered by Pussy Project- a collective of women interested in discovering their sexuality.
Watch the wide here: https://youtu.be/fLGjuoLTuWI
Illumination
Church candle installation with images of D&D as various immortalised artists.
Dellfina&Dellacroix
The tomb of the unknown artist
Here lies in honoured glory, known only to himself, the one who died for art
Dellfina&Dellacroix
marble and bronze
180x100 cm
Commando Utopia
Suitcase bomb designed after the Anarchist cookbook recipe, containing spray paint, art material electronics, alarm clockand artistic manifesto.
Dellfina&Dellacroix
40x50 cm
The meaning of art
Cardboard letters willed with bull excrements mixed with silicone foam.
Dellfina&Dellacroix
60x90cm
Dead art
Cardboard letters willed with artificial flowers, wrapped in foil.
Dellfina&Dellacroix
60x90cm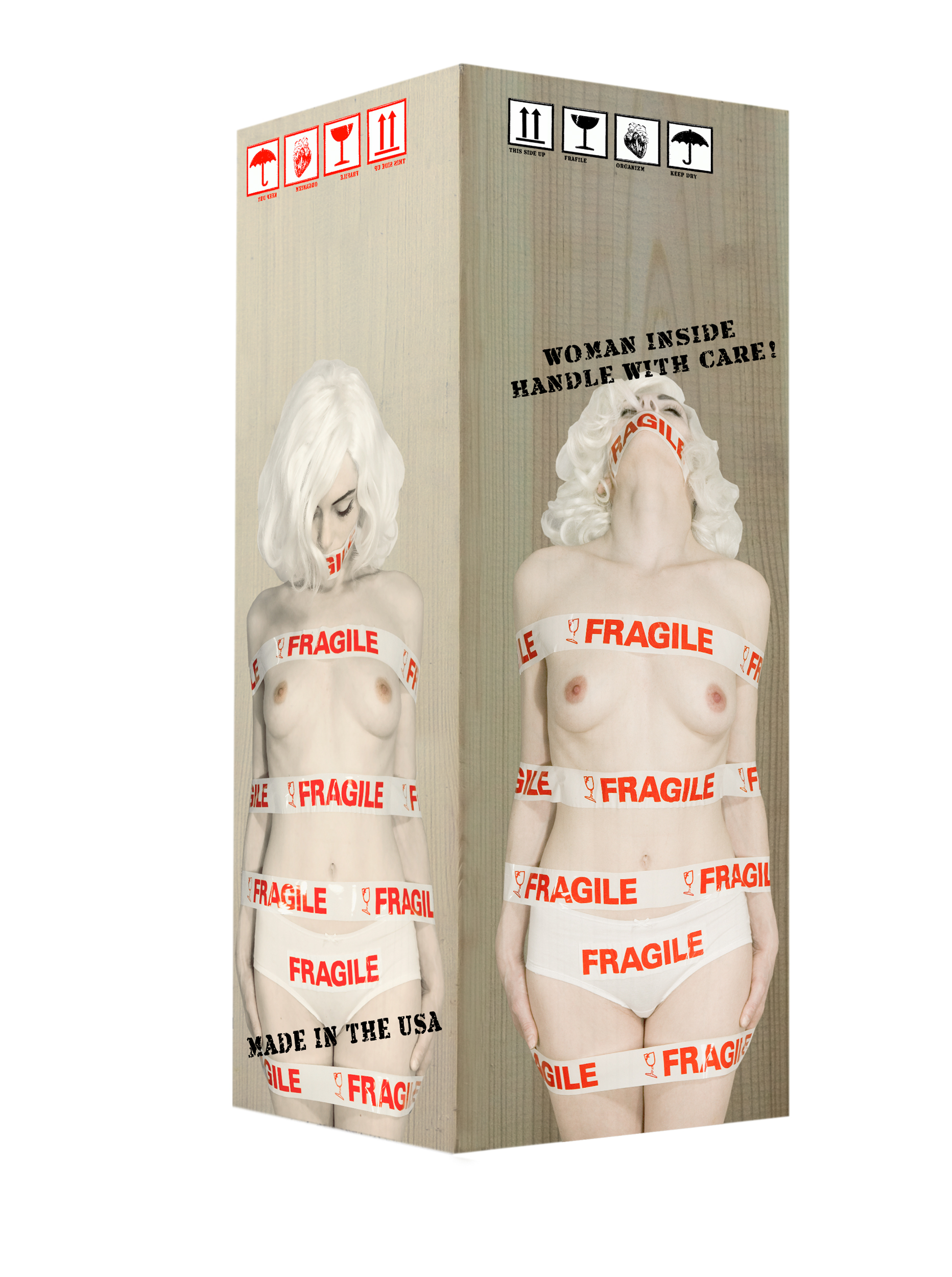 Handle with care
photo on plywood with sound installation (last interview with MM)
90x90x190 cm
Editon of 3
Dellfina&Dellacroix
Best before
Installation of 100 cans containing contemporary art. Labeled, signed, numbered.
Dellfina&Dellacroix
Art by the meter
20m long roll of canvas with a artist's selection of printed artworks
Piece unique
Dellfina&Dellacroix
RePUTAtion
from the project Sexport
collage made of porn leaflets and acrylic paint on europallet
120x80cm
2010
The rosary (it was just a dream)
Readymade